Rooftop Gardens
Adelaide Zoo, Central Adelaide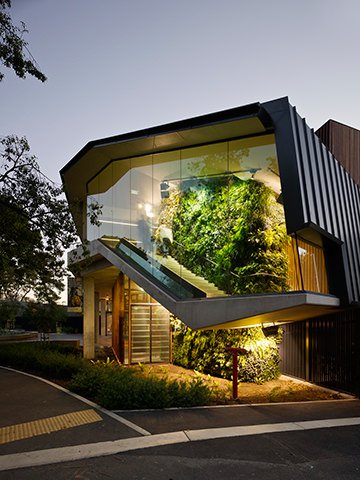 Image via HASSELL
Much like the Smithsonian in DC, the Adelaide Zoo sits in a small grassy area within the middle of the city's CBD. It affords city goers a certain amount of respite; people come to it during their time off to sit and watch animals, and it contributes a large green area to break up the humdrum of grey buildings.
In addition to symbolically breaking down the barrier between the human and natural world, the green roof doubles as a wildlife shelter and a conservation centre for native Australian plant-life. One of the major goals of the project was that construction would suffer no overall loss of animal habitat, and as such the many interwoven forecourts below the roof feature green 'living walls' of flora and fauna.
Burnley Living Roofs, University of Melbourne
Image via HASSELL
The Burnley Living Roofs are a collaboration between a major international architectural firm and Melbourne's academic urban horticulturalists to create a shared living and natural teaching space on campus.
It features a large amount of sub-divided plantation spaces encompassing a multitude of plant-life, divided further into a classroom and walking-spaces that throng the length of the garden in striking style.
Additionally, it serves to further our knowledge of green roofs. Its design encompasses four separate experimental spaces that serve as separate meta-experiments within the garden (such as measuring stormwater quality and insulation).
101 Blanshard Street, Melbourne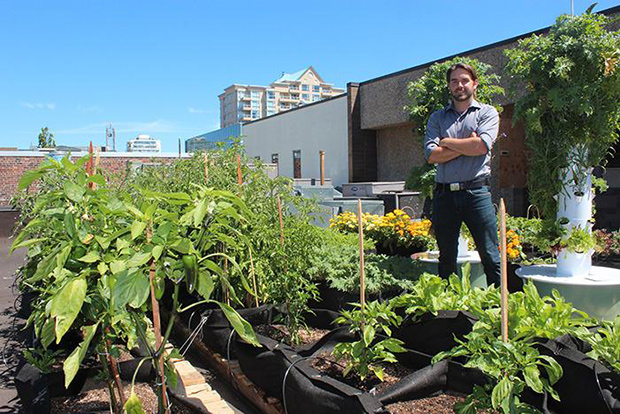 Image via Victoria News
As space in cities become a premium, and the sprawl extends into the limits of the city, there's been an increasing call to use what space we have not just for natural plant growth, but for commercial institutions and farms to take advantage of the significant unused space of our roofs. Many green roofs produce food for their inhabitants, but it's only recently that we've seen people begin to rent other spaces for commercial production.
The roof of 101 Blanshard has become the commercial produce grounds of a University of Victoria student, which he uses to supply the neighbouring restaurants with freshly cultivated produce.
Whether a capitalist venture or not, ventures such as this may change our understanding of country and urban spaces, and ultimately contribute to a greener city regardless.
Museum of Old & New Art (MONA), Hobart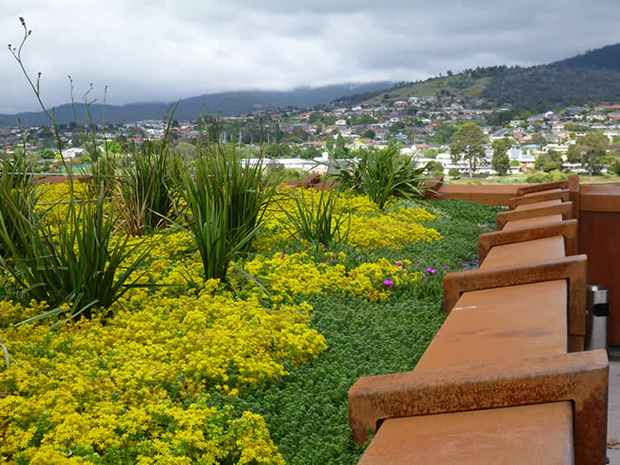 Image via Fytogreen
MONA is already a curious blend of natural and human elements – it's built into the side of a sandstone hill to seamlessly blend the two environments. So for them, the next natural step was to install over 1,400 square meters of roof gardening to further accentuate what amounts to the first piece art-lovers will view coming there.
While a lot of the pieces here are very High Culture in style, or have a businesslike sheen to their design, MONA seeks to be as accessible for common cityfolk as possible. Instead of imposing gothic imagery, goers are more likely to see art in installations set up to look like a tennis court or natural rock formations.
Vertical Gardens
ANZ Headquarters, Melbourne, Victoria Harbour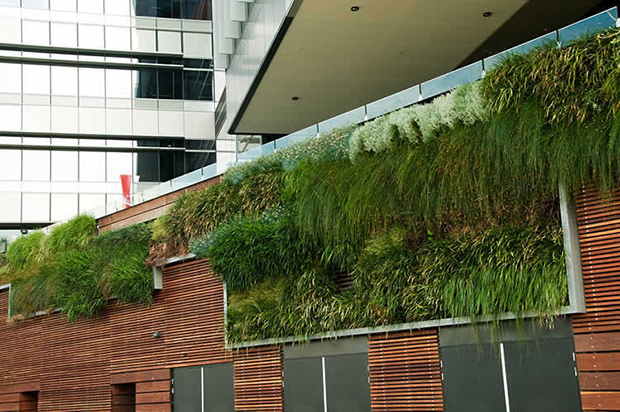 Image via FytoGreen
One of the largest problems facing Australia when it comes to rooftop and vertical gardening, and one of the main reasons it's not taken off quite as quickly as in Europe and Asia, is our extreme climate.
Not all plants can be left under an Australian summer without a large amount of upkeep, and so you'll see a lot of pieces – such as the ANZ Headquarters in the Harbour District of Melbourne – focus upon sustainable, low-maintenance native Australian grasses.
The result is that Australian green architecture has it's own distinct culture and look to it. We tend to go for a lot of patchwork designs to highlight different types of native grasses rather than a uniform green lawn, giving our living spaces their own national identity, while promoting sustainability.
The Gauge, Melbourne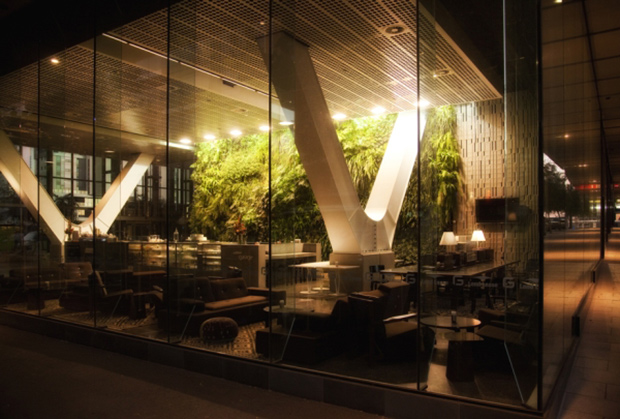 Image via The Greenwall Company
The Gauge in Melbourne is Australia's first building to be rated 6-stars in both design and operation, and features numerous indoor vertical gardens that help regulate a natural airflow, alongside a natural cooling and heating system supplied equal parts by natural gas and large internal chimneys.
The ethos behind populating the Gauge with its own ecosystem is twofold: firstly, that social and natural interaction, as well as creativity, should flourish in the workplace. Secondly, to prove that an office building can hold up to the highest of environmental accreditations while still maintaining full commercial viability.
QANTAS lounge, Sydney airport

Image via Patrick Blanc
The circular shape of the QANTAS lounge in Sydney plays host to a vertical garden that seems a little out of place contrasted against the bustle of travel and relative starkness of the airport.
Designed by French architect Patrick Blanc, it's a feature reserved for first-class customers only, which somewhat sadly reinforces a recurrent theme in vertical and rooftop gardening – until we start to imagine it upon a much larger scale, the main places that take it on board are going to be either passion pieces, or done so by people with enough money.
That isn't to say that the piece isn't lovely in itself, though. Featuring a self-sustaining ecosystem developed by the architect during employment at Le Centre National de la Recherche Scientifique, the only thing needed to be regularly upkept is the growth of the plants. Water and essential nutrients are delivered and recycled through an internal system.
Botanica Apartments, Brisbane
Image via Fytogreen
Botanica Apartments is a serviced apartment complex in the heart of Brisbane that, much like the other commercial features on our list, has sought to prove that sustainable, eco-friendly business practises can not only be achieved while remaining commercially viable, but can actively raise the viability of that place.
It's worth noting that the search for a greener life, and the melding of the natural and urban world, makes any business that is consciously and transparently environmentally conscious a striking sight, and in an industry such as hospitality, may even be a strong boon in soliciting trade.