Your building is an asset.
For many owners, it is the single largest asset they will ever own. Maintaining that asset is not a cost but an investment in your financial security and amenity. Committees rightly expect a service fitting to the value of the building as an asset, that meets the expectations of owners and occupants.
Strata Data Building Management is South Australia's leading provider of cost-effective Building & Facility Management Services to the top end of the Body Corporate market.
Our market niche includes residential, commercial, retail and mixed-use complexes within the strata and community environment.
Larger buildings have installed more complex infrastructure and technical operating systems that require a higher level of expertise and attention. These additional responsibilities may include site inductions, scheduling preventative maintenance, overseeing regular contractors on-site, lifts, mechanical plant, centralised access control systems, significant capital works requiring project management, asset registers and energy efficiency initiatives.
Our objective is to ensure that the servicing and maintenance requirements of the property meet with the superior standards that owners have come to expect, as well as adherence to best practice and legislative guidelines. Our Managers liaise with residents, service providers and key stakeholders to assist with the development and improvement of the services being provided, with a view to immediately attending to any issues that may arise. This leads to a reduction in the amount of time important building infrastructure is down and comprehensive oversight of expenditure on required repair works.
Keep in touch with our cloud-based technology:
Real-time communication at the touch of a button. Easily share information, updates and notifications to all building members within seconds. Delivered through multiple platforms ensuring everyone gets the right information at the right time.  You can send out email, SMS and push notifications to residents in a flash.
Digital Notice Boards. Positioned in high traffic areas such as foyers and lifts, digital notice boards create an engaged and informed community. With everything from urgent alerts to the weather, your residents will never be behind.
Resident Feedback. Residents are the heart of the building, and that's why it's important committees receive their feedback. With the survey feature you can do just that. Quickly gather your site's views and make informed decisions.
Booking of shared facilities such as lifts for move-in/move-outs, BBQ areas, conference rooms, tennis courts etc.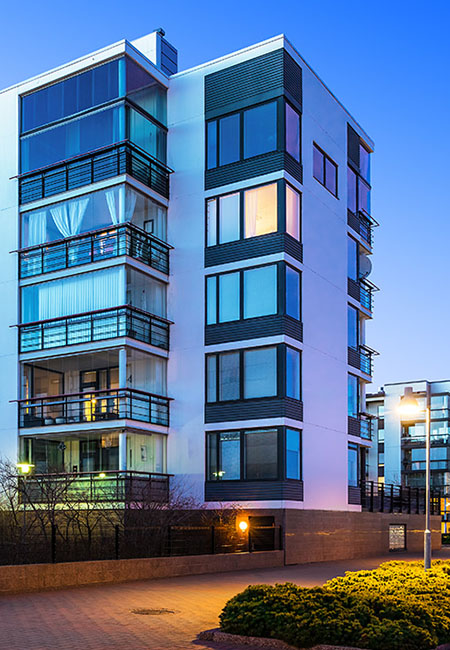 Building Management with Strata Data provides the Corporation with following services:
Building Management & Administration
Communicate with committee members, owners, occupants and Body Corporate managers to ensure expectations are managed and met
Ensure the optimum operation of all common plant and general facilities. In the case of corrective maintenance, thorough investigation is carried out prior to the commencement of works, with comparative pricing sought when required or requested
Logging and reporting to ensure scheduled maintenance is undertaken when due, with invoice auditing prior to the approval of payment
Manage, maintain and provide all relevant administration, registers, records and databases
Provide a 24-hour, 7 day a week response to emergencies
Establish and maintain an asset register
Establish and maintain a register for all keys/fobs/swipes ordered and purchased by owners. Programmed and collected on-site if a system is available.
Coordinate and manage bookings for move-ins and outs, function and meeting rooms as well as recreation areas.
Meetings & Reports
Attend scheduled meetings of the Committee and Corporation
Provide a monthly report which details:
+ Repairs and maintenance to common infrastructure and property
+ Progress of ongoing issues in common property
+ Performance of agents, contractors or other employees of the Corporation
Assist with the follow-up of defects or existing problems within the property upon receiving a Defects Report. This will be achieved through:
+ Communicating with Corporation representatives
+ Managing the status of defect repairs
+ Assisting the builder with access and general information
+ Documentation and reporting of further defects to the builder
Maintain up-to-date drawings of plant, service and installation of equipment
Regularly inspect common areas, plant and equipment to identify and address any issues, utilising a schedule of daily, weekly and monthly inspections.
Respond to and investigate all maintenance failures and liaise with immediate contractors
Keep a log of individual maintenance tasks carried out.
Strategic Planning – 5, 10 and 15 year plans to ensure the longevity of your building, with no surprises
Contractor Management
Accurate reviews of contracts and scope of services to ensure the Corporation receive cost-efficient and relevant services in line with requirements
Make recommendations to the Corporation about the tenders received
Issue work orders to contractors/service providers after approval by the Corporation
Oversee and performance manage service providers to ensure all aspects are in keeping with agreed upon conditions
Facilitate and oversee works undertaken by service providers
Liaise with the Corporation and the Body Corporate Manager regarding approval to pay invoices.
Undertake annual performance review to assess each service provider engaged.
Facility Maintenance
Scheduling (and recommend to the Corporation) routine and preventative maintenance services, essential services and other statutory maintenance inspections and certificates.
Typical service providers that will be monitored and reported on by Strata Data Building Management include:
Fire services
Lifts
Hot Water Systems
Pumps – cold and hot water boosters, reticulation, sewer and stormwater
Mechanical – fans, air conditioning unit and cooling tower
Cleaning
Pest control
Security – Intercom, CCTV and access control
Landscape & Gardening
Pool services
Gymnasiums and recreational facilities
WH&S
Strata Data is committed to assisting the Corporation in creating high standards of health, safety and welfare in the working environment for residents and visitors of the property through:
Ensuring contractors hold relevant insurances and required licenses
Maintaining and promoting a safe and healthy workplace
Identifying, controlling and mitigating risks within the workplace in a timely manner.
Did you know?
It is critical that if you engage a building/facilities manager that you organise this through a professional and experienced organisation such as ours, so that you do not fall into the trap of directly employing the building/facility manager.
If your apartment building directly employs this person, your entire building becomes a workplace and subject to the WHS Act which is an additional burden and expense that is unnecessary and avoidable.
Frequently Asked Questions
Question: What are the advantages of having Strata Data provide both the body corporate management and building management?
Answer: Having the body corporate management and building management 'under one roof' has many advantages, including:
Reduced duplication
Better communication
One stop for solving problems, so you don't need to work out if it is the building manager or strata managers responsibility. It just becomes Strata Data's responsibility and we get the problem resolved
Lower cost due to reduced duplication and streamlined communication
In saying that, we have no problem providing a building management service for a building managed by another body corporate manager.
Question: Would it be better for the body corporate to directly employ a building manager rather than engage Strata Data to provide one?
Answer: It is critical that if you engage a building/facilities manager that you organise this through a professional and experienced organisation such as ours, so that you do not fall into the trap of directly employing the building/facility manager. If your apartment building directly employs this person, your entire building becomes a workplace and subject to the WHS Act which is an additional burden and expense that is unnecessary and avoidable.
Question: What size does my building need to be to consider a building manager?
Answer: Where your complex has 75 or more apartments, you may benefit from an onsite building manager.
Question: Does the building manager need to be full-time or can they be part-time?
Answer: The building manager can be engaged on a part-time or full-time basis depending on the size and complexity of the apartment building.
Question: What are the main differences between what a body corporate manager does and what a building manager does?
Answer: The body corporate manager looks after the back-office aspects including compliance with the body corporate laws, organising the building insurance, collecting of levies and approving payment of expenses, producing financial reports, following up levy arrears and other secretarial, treasury and administrative functions. A strata manager works from their own office and typically manages anywhere from 50 to 150 buildings.
The building managers main functions are communication with residents, facilitating the booking of shared facilities, repair and maintenance of common area issues, inspections of common areas, plant and equipment, managing contractors, key/fob/swipe management and other functions best handled by an on-site presence. A building manager works from the building they are managing. They typically manage only 1 building or 2 buildings.
Question: Are we able to tailor a specific scope of works and duties to be undertaken by the Building Manager at our building?
Answer: Yes, we tailor the scope of works on a case by case basis. But of course, we have a schedule of choices to work with so we can provide our advice and recommendations on what we feel would work best in your particular circumstances.
"It feels very good to know that Strata Data have our backs. They are focused on servicing our needs. Their help and insights actively contribute to good governance and community oversight…

…We appreciate the manner in which this company interfaces with our community members; the results that its company members are individually and collectively providing certainly give broad comfort to us that, as our Building Managers, Strata Data are very much "on the ball."
– Kodo Apartments Management Committee, Adelaide CBD
Get A FREE Proposal Regarding Your Needs Today
Legislation and reporting can be tricky so let us take away the stress and get your corporation running better than ever.
Simply fill in your details below and we'll get in touch with you soon.