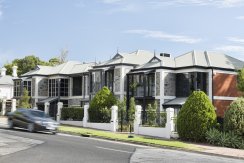 Lowered Levies & Cost
Our group located in Burnside has been managed by Strata Data for over 25 years since 1989. Over the past 3 years, Strata Data has helped arrange major remedial works and painting.
Our manager has also helped to lower our levies by contract management. We received a lower insurance policy with a reduced excess cost and the cost for gutter cleaning has been halved! Our manager and their PA have attended the property several times to carry out site visits conducted with all owners.
They have a complete understanding of how our property works and as the Presiding Officer, they have helped me carry out my role with ease.