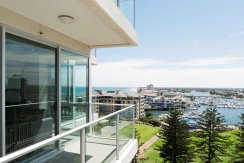 Cost Reductions & Legal Matters
Liberty Towers changed Body Corporate Managers to Strata Data at the beginning of 2010.
We found a new sense of professionalism, objectiveness and independence in the people at Strata Data.
From the basics of filing Corporation documents and record keeping to financial reporting, budgeting and contract management we have seen a significant improvement.
Strata Data has been intimately involved with our committee in handling a number of complex issues including cost reductions in our essential services contracts, and provided valuable advice and assistance in regards to three key legal matters.
With Strata Data we found we were encouraged to get more involved with the operation and decision making within the Corporation ourselves, though at all times ? as the experts ? they have been keen and willing to assist in every way.
In all these respects our experiences were an improvement on our previous managers. We have no hesitation in recommending the team at Strata Data to any who may find themselves in need of a professional management service.